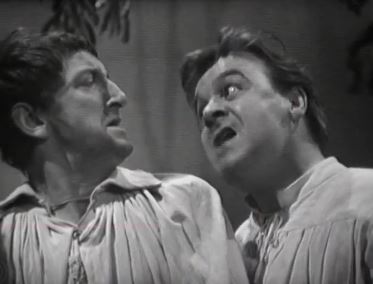 On 22 March 1963, BBC 1 broadcast Michael Elliott's production of As You Like It , in which Patrick Wymark recreated his performance as the jester Touchstone. Elliott's July 1961 production at the Shakespeare Memorial Theatre in Stratford had won acclaim from the critics, who fell in love with Vanessa Redgrave playing Rosalind. The play transferred to London's Aldwych Theatre on 10 January 1962.
The TV production gave TV audiences the opportunity to see the stage cast re-united, including Patrick Allen as Orlando, Rosalind Knight as Celia and Max Adrian as Jacques.
Earlier in the month, BBC audiences had seen Patrick Wymark in another comic role in the 1 March 1963 Comedy Playhouse: Our Man In Moscow. Written by Ray Galton and Alan Simpson, who had already generated a comedy success with Steptoe and Son, the play starred Robert Morley as Sir William Hunter, the British ambassador in Moscow. Wymark played Nicolai, a Russian tuba player wanting to defect to Britain.