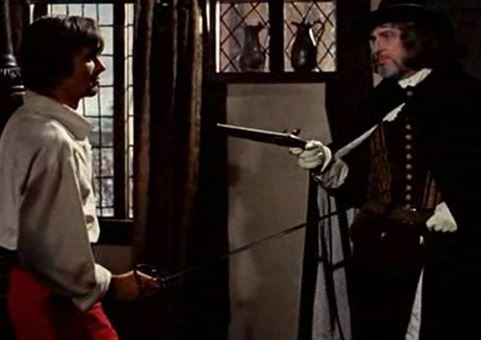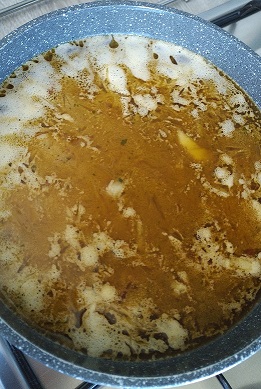 Ian Ogilvy's Turnip and Onion Soup forms the backbone of my Witchfinder General themed lockdown lunch. Jenny Hammerton of Silver Screen Suppers and Peter Fuller of the Vincent Price Legacy UK website are currently putting together a Vincent Price Co-Star Cookbook pairing 50 of the Merchant of Menace's favourite recipes with 50 recipes from his co-stars. Since they were looking for test-cooks, I leapt in to grab the only movie that paired Vincent Price with Patrick Wymark: Witchfinder General!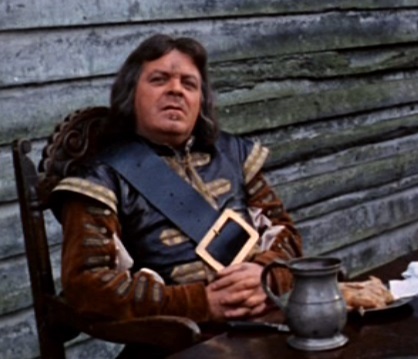 In the movie, set in 1645, Ian Ogilvy plays Richard Marshall a young farmer who has inherited his father's farm but has enlisted in the Parliamentary army for "as long as the trouble lasts." Halfway through the movie, Richard reports to Oliver Cromwell (Patrick Wymark) who gives him the task of hunting down the fugitive King Charles. As the Cromwell Museum, Huntingdon will tell you, General Fairfax was actually in charge of the army at the time – but since Patrick Wymark also speaks the opening narration, the movie calls it, "Cromwell's Parliamentary Roundheads". I will be donating the cost of the meal I would usually have been eating to the museum in penance, and can only suggest you do the same.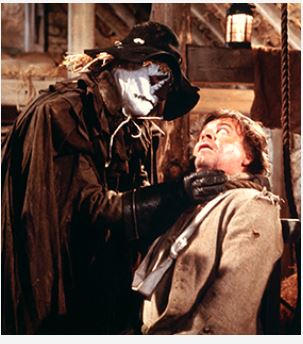 In homage to that other great Patrick Wymark/Patrick McGoohan movie Dr Syn Alias the Scarecrow and in the interests of social distancing and Coronavirus masking, I prepared the meal in the guise of Dr Syn.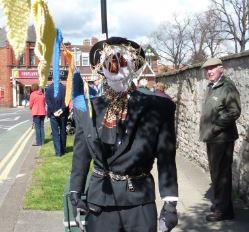 Soup's pretty filling, but I thought I would need something to go with it. Watching the movie, most of the meals seem to involve some kind of bird, and did wonder for a moment if I could bring in Richard Johnson's Four Time Chicken – not just an excellent recipe but something fit for these utilitarian lockdown times. But then I remembered how I ballsed it up and thought better of it. And then, I noticed that in the aftermath of the witch burning scene in Lavenham town square, director Michael Reeves had included some quaint sentimental shots of village children roasting potatoes in the dying execution pyre.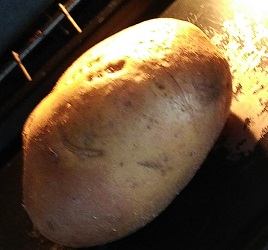 As to what to drink with the meal, ale seems to be appropriate choice. Although not while you're preparing the meal. The recipe calls for 2 pints of beef stock, and during my first attempt I miscalculated and used one too many Knorr Stock Cubes. The result was very salty. So, keep it sober seems to be the motto.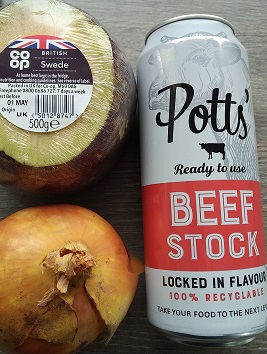 Ian Ogilvy's recipe seems pretty true to the era. Food was scarce for most people, and as a Puritan, Ogilvy's character would probably have disapproved of fancy cooking. At the core of the recipe is one large turnip, one onion and a 1.2 litres of beef stock. After my initial disaster I played it safe with a can of beef stock (diluted half way through with an equal quantity of water). And no, I didn't mistake it for a can of ale! Now you'll notice that all I could find in the shops was a swede. I assume that Ian Ogilvy's recipe intends a white turnip, which would be historically accurate since the swede was not introduced to England until the 1750's. But even trying different shops for my two attempts, the swede is all that was on offer. Since the recipe also includes a pinch of curry powder, I'm sure we can run with the swede!

So, the swede and onion is chopped up together with a clove of garlic which I sliced and crushed with my blade as if I was a roundhead cavalryman. Then you just mix the lot up with some melted butter and sweat for ten minutes.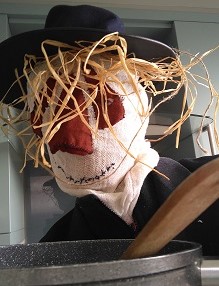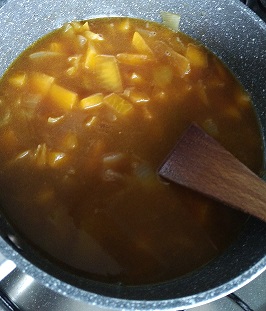 It goes without saying, I'm not giving you the full recipe here.- But 30 minutes later, after a vigorous buzz with a liquidiser, the Turnip and Onion soup was ready to eat!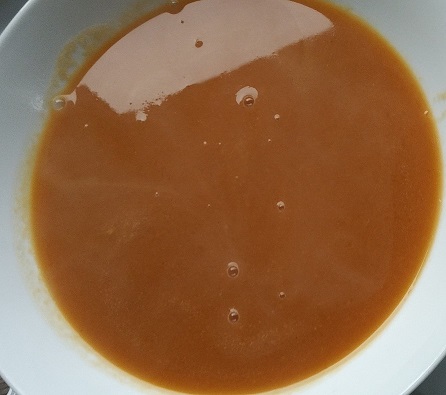 Perhaps a bit darker than Mr Ogilvy's original, but still very tasty. I'd expected more of a turnip taste but to my unsophisticated palate the beef stock dominates. Nevertheless, the swede and onion provides a hearty texture. A nice accompaniment to that Witch Ember Roasted Potato. Next week you can join me when I make authentic Cock Ale. What's Cock Ale? Don't ask!*
You asked! Boil a chicken in 8 gallons of ale, add 4lb of raisins, nutmeg and 2 quarts of sack. Seal for 7 days and then bottle for a month. Lovely.