Thanks to researcher Billy Smart for unearthing this parody of The Power Game from the 1966 BBC 1 satire series BBC 3.
Marcia Ashton captures the fluttering eyelids of Rosemary Leach, Roy Dotrice evokes the delivery of Clifford Evans, John Bird recreates the voice and body language of Patrick Wymark as Sir John Wilder – and Ann Firbank (from Series 3 of The Plane Makers) recreates the role of Pamela Wilder! Ironically, Marcia Ashton later appeared in a series 3 episode of 'The Power Game'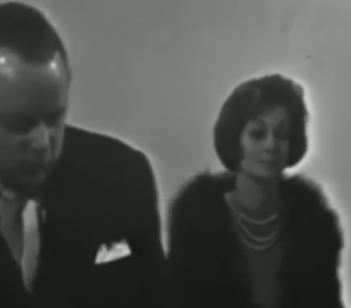 It's difficult to date this episode as Ann Firbank and Marcia Warren don't feature in the Radio Times or newspaper listings – and BBC 3 doesn't feature in their IMDB listings. Marcia Warren appears to make a reference to the January 1966 episode Point of Balance so it's likely the sketch was written after that. Like The Power Game, Ned Sherrin's BBC 3 had to be suspended when the 1966 General Election was called, although BBC 3 returned earlier from 2 April 1966. Billy Smart thinks it's possible this episode was broadcast in April as John Wells (playing Ken Bligh) is only credited for the April episodes.
The sketch centres around Sir John Wilder attempting to ensure that The Power Game is not taken off for the Summer but instead appears, "Every night of the week – with repeats!" You can see the sketch here