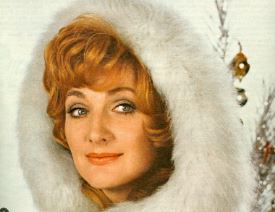 I have finally got round to putting a Barbara Murray section up on the website. Why have I not done it before? Laziness. Considering that Barbara Murray"s career began and ended after Patrick Wymark's, and I still haven't finished uncovering new information about his career, why did I think it would be otherwise?
One spooky point I'd never realised before is that Barbara Murray actually appeared in the TV programme showed directly before Patrick Wymark made his TV debut. Almost as if it was fate.
The one big mystery surrounding Barbara Murray's career is how ITV perceived her. There was a period, after The Power Game ended, where Barbara Murray seemed to be tactical support for struggling ITV sitcoms. Three of them between December 1969 and April 1972 where Barbara Murray was sent in to cover for the departing female stars.