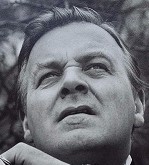 One question that often comes up is, "where did Patrick Wymark get that scar on his bottom lip?" And the short answer is, "a car crash."
But the long answer provides a hole in my research that I've been unable to fill. As we've seen here, Patrick Wymark joined the Old Vic Theatre school, and took part in the graduation show in June 1951. In September/October 1952, he made his professional debut with one line in Othello. And he continued to appear in Old Vic productions up to Henry VIII in May 1953.
According to a magazine interview with Olwen Wymark, when their daughter Jane, "was about five months old, Patrick went off on tour in South Africa. He was to be away for over five months and it seemed terribly tragic at the time."
According to a magazine interview given by Patrick Wymark, the tour of South Africa was with the Old Vic company. And while appearing in Salisbury, Rhodesia (Zimbabwe) , "I was driving along a main street when a car shot out from an intersection and ran into me. When I regained consciousness I was in hospital. I had gone headfirst through the wind-screen and my lower lip was almost torn off. They put 25 stiches into the main wound, but for days I couldn't speak."
In her own magazine interview, Olwen doesn't mention the car crash, but remarks that, "Patrick came back wearing a beard."
Strangely enough, I've been unable to track down any details of the 1953 tour of South Africa. The previous year, the Old Vic company under Tyrone Guthrie had made a successful tour of South Africa and Rhodesia from May to November 1952. The 40-strong company had included Jane Wenham, Paul Rogers and Douglas Campbell, while Jennifer Bourke and Robert Shaw had actually got married in Rhodesia. But I can't find any details about the 1953 tour. And I've been unable to find any credits for Patrick Wymark until November 1954. So, rather than keep banging my head against a wall, I thought it was time to put this out on the internet, and see what came back.
UPDATE April 7 2021: Many thanks to researcher John Smith who has provided a copy of passenger manifests confirming that Patrick Wymark was a passenger on the Pretoria Castle, along with other members of the Old Vic company, when it set sail for Capetown on 22 May 1952.