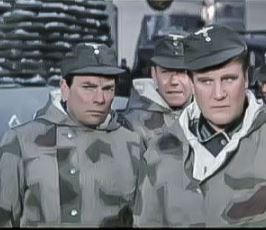 In Where Eagles Dare, Patrick Wymark briefs the small team of "Eagles" on their secret mission. Although they may seem to be an ill-matched group of strangers, they all have previous connections with Wymark.
As Thomas, William Squire was an established member of the Old Vic theatre company when Patrick Wymark made his debut. Squire (who would go on to play Hunter in Callan) played Benvolio in the 1952 production of Romeo and Juliet where Wymark appeared as Friar John.
As Berkely, Peter Barkworth had, of course, vied with Wymark as Kenneth Bligh in the first two series of The Power Game. And as Christiansen, Donald Houston had previously been on the opposite side to Wymark's detective in the 1961 play The Takers.
While Michael Hordern (Admiral Rolland) had previously appeared with Wymark in the Disney version of Dr Syn it appears that Wymark and Richard Burton had never appeared together (Burton joining the Old Vic as a lead actor, the year after Wymark left the company).