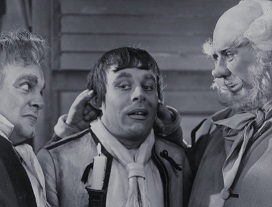 On 12 July 1955, the day after his 29th birthday, Patrick Wymark appeared in the first performance of The Merry Wives of Windsor as the jovial Host of the Garter Inn.
Glen Byam Shaw's production at the Shakespeare Memorial Theatre, Stratford starred Anthony Quayle as Falstaff. Wymark had been performing at Stratford since 1955, mainly in comic roles. The Times noted Wymark, "particularly good as the jovial Windsor innkeeper who devises and sets afoot the duel between Caius (Michael Denison) and Evans (William Devlin)." William Devlin would, of course, become Sir Gerald Merle, the antagonist of Wymark's John Wilder in The Plane Makers.
In his Old Vic Prefaces, Hugh Hunt noted that the Host of the Garter was proprietor of a focal point in Windsor society which accommodated the overflow of foreign visitors to Windsor Castle. "These visitations from foreigners, not only taught the host much about life as a whole, giving him an easy tolerant view of the ways of human beings, they also brought him riches and a reputation for astuteness in business matter. The foreigners and courtiers who frequent his inn have, moreover, had a marked influence on his manner of speaking."
On 2nd October 1955, the BBC screened a telerecording of the Stratford production as part of the Stratford festival. Although the whole performance was recorded, only the second half was screened. This would be Patrick Wymark's TV debut. By a strange twist of fate, Barbara Murray, who would later play Pamela Wilder , appeared in the play preceding the adaptation as Shakespeare's Dark Lady of the Sonnets. Even more ironically, Ann Firbank, who would cover the role of Pamela Wilder in the third series of The Plane Makers, also appeared in the Stratford production.