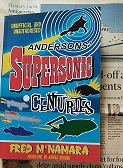 Anderson's Supersonic Centuries is a new collection of essays by Fred McNamara, covering the breadth and depth of Gerry and Sylvia Anderson's TV and film adventures.
Running to 277 pages, the book covers most of the Anderson productions although concentrates unsurprisingly on the most popular from Stingray to Space 1999. Fred was the author of 2020's Spectrum is Indestructible, so it's not surprising that there are several new insights into Captain Scarlet.
The book is more analytical than historic. While facts and figures of production are delivered, they are usually in support of the theories put forward about why a particular choice was made. The first Thunderbirds movie had focused on hardware, so director David Lane "wanted to do something amusing" for Thunderbird Six. But the resultant film spectacularly misunderstood its audience, finally revealing the title craft to be (Spoiler) "a diminutive, ancient (Tiger Moth)…Audiences expecting to see a new and awesome craft become Thunderbird Six…would surely have been deflated to see this anti-Thunderbird drag itself along Thunderbird 2's runway."
While some of the essays examine the Anderson productions as pure industrial film-making, others explore the reality within the series. The multiple 'failures to communicate' within the UFO episode A Question of Priorities, or the 'shock, horror and fear' of the Space:1999 episode The Troubled Spirit. The book spans many subjects. I enjoyed the speculation into what form a Zero-X tv series might have taken and the investigation into how Captain Black's personality was deepened in the various merchandising spin-offs from Captain Scarlet and the Mysterons. The book rekindled happy memories of Stingray episodes like Subterranean Sea, which gets a chapter to itself. But it also inspired me to get hold of the New Captain Scarlet DVD and look up an episode I'd probably overlooked before. Although titled Andersons' Supersonic Centuries, the book is bang up to date with articles on the legacy productions such as Thunderbirds 65 and Nebula-75.
You may not be able to buy a new TV21 annual this year, but if you're looking for something to settle back on the couch with this Easter and dream of Century 21, Andersons' Supersonic Centuries is just the ticket.
Andersons' Supersonic Centuries by Fred McNamara. £14.99 fromTelos Books ISBN 978-1-84583-197-4 . Buy now at Andersons' Supersonic Centuries: The Retrofuture Worlds of Gerry and Sylvia Anderson – Telos Publishing