Uncategorised
Posted on
Sun, April 18, 2021 15:48:50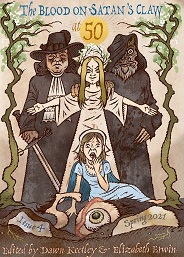 It seems particularly eerie that I was advised sometime after Midnight Friday night of this 117 page magazine celebrating 50 years since The Blood on Satan's Claw or 'Satan's Skin' first hit British cinemas. I was just uploading a comment when unearthly forces took down Twitter. Coincidence or not, it gave me more time on Saturday to read through "Horror Homeroom Issue Number 4". until the Dionysian forces of Twitter reassembled themselves.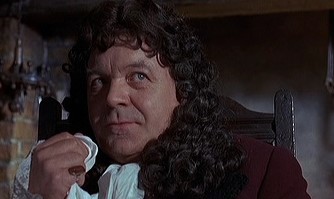 I won't pretend to have read through the whole magazine yet. There's far too much to think about in the ten articles analyzing the movie. Editor Dawn Keetley gets off to a good start in her introduction by presenting a link to the 1970 Kine Weekly article which first described The Devil's Touch (as it was filmed) as, "a study in folk horror, " underlining the fact that this sub-genre is far from being a recent attempt to superimpose 21st century concerns on 20th century film-making.
Of immediate interest here, of course, Paul A. J. Lewis examines Patrick Wymark's performance as The Judge, whose "morality…is not uncomplicated." Drawing on earlier performances (not least the original stage production of The Devils and John Mortimer's production, The Judge) Wymark brings what Piers Haggard identified as , "a wit and power," that more traditional horror film casting would not. The final freeze-frame poses the question what the unintended costs are of authority crushing troublesome ideology.
Michael Jacob suggests the demon offers a purpose to the downtrodden through membership in a cult, and discusses the transformation of The Judge from impotent elitist intellectual to a heroic communal agent of action.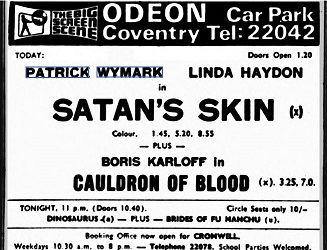 The magazine covers every aspect of Blood on Satan's Claw : David Annwn Jones argues that Angel Blake (Linda Hayden) reflects public perceptions of then-current child murderer Mary Bell, Matthias Hurst reflects on the struggles of the young against authority, Jessica Parant examines the film's contrasting view of bad girls and good women to include Isobel (Avice Landon) and Ellen (Charlotte Mitchell). Michael Cerliano argues that the demon battles Enlightenment rationalism rather than Christianity, Kern Robinson asks why the demon of the movie is so ineffectual, Lynsey Townend discusses the fur that infects its victims, and Dawn Keetley traces the history of the ruined church used in many of the scenes and suggests that it ties in with anxities about the declining British birth rate at the time the movies was filmed.
It would be wrong of me to go on at more length, when you can download the magazine yourself at www.horrorhomeroom.com